Working crazy hours can make sleep even harder to get than normal. Upon the recommendation of a co-worker I decided to try a sleep mask. (I totally thought I was just throwing my money away, but thought, what the heck!! I need sleep!) So I bought an inexpensive one from a big box store. OMG!! I was transformed into a happy sleepy girl. This really made a difference for me.
Knitter brain engaged now, I started thinking….."are there any knitted sleep mask patterns out there?" Whoa Nelly are there!
Everyone needs a good nights rest! Photo from dogster and is Sabrina a American Pit Bull Terrier/Weimaraner mix! I know how CUTE!!
Included here for any sleep deprived people, great for stash busting, and random gifts, here are an assortment of sleep mask patterns, from functional to funny!
Knitted patterns-(I think a thicker band would be better around the head, and no ties! No one wants a lump in the back of their head)
-Awards for the best looking knitted sleep mask pattern, published in Knitty summer 04, Velvet Oblivion from Stephannie Roy who blogs at AndSheKnitsToo, pattern looks easy.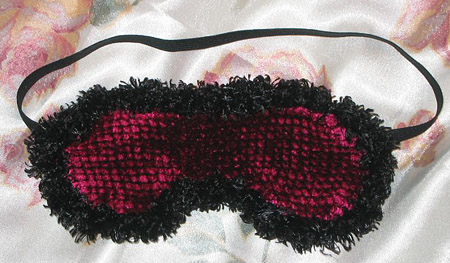 -Two sides of drunkenness sleep mask knitting pattern free pdf, thanks to fuzzbotdesigns.blogspot.com, this also has charts for beer, wine and booze! It had me smiling.
-Ruched Sleep mask from Sara Core at Exchanging Fire blog, pretty mask!
-From DesiKnitter a Chevron sleep mask, I like the thick looking band around the head, and it is good looking.
-A no frills knitted sleep mask pattern (rav link) from Elizabeth Martin, suitable for the men in your life.
Crochet Sleep Mask:
-Very cute crocheted owl sleep mask pattern from Roman Sock! (for all of those night owls!)
Now go get your needles out!